Our easy pumpkin bookmark craft uses hand sewing with felt scraps and a free pattern template.
This cozy autumn bookmark is perfect for holding your place in a book. The corner bookmark design is ideal for holding multiple pages.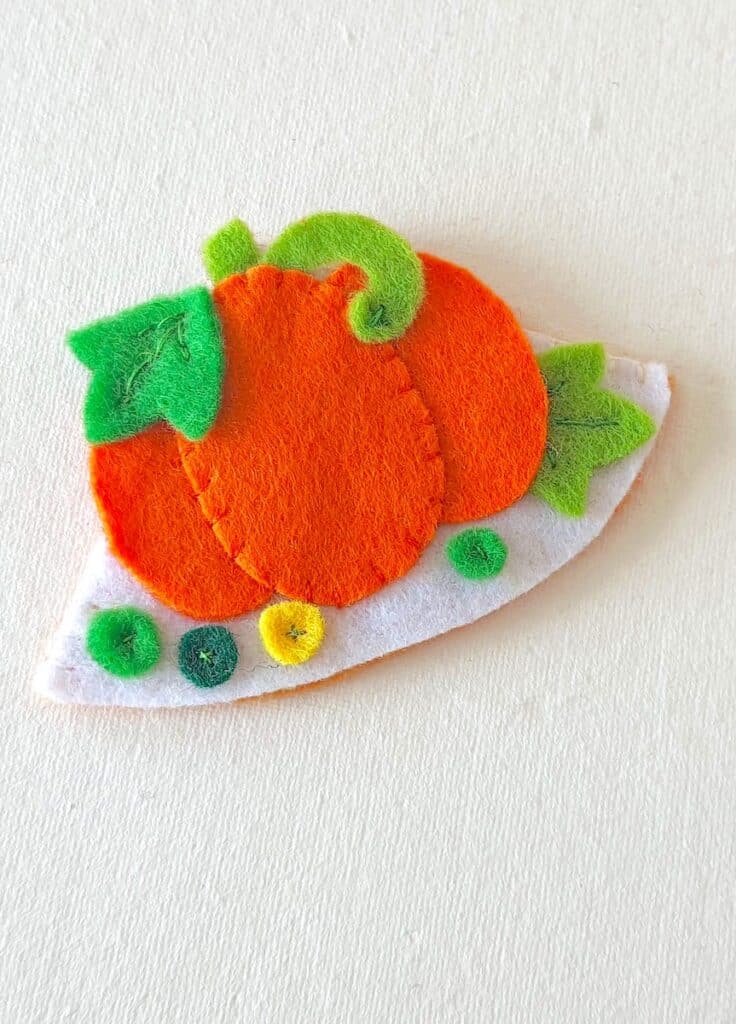 This is just one of our many hand-sewing felt crafts with free patterns. Be sure to see them all!
How to Hand Sew a Pumpkin Bookmark
Materials
Felt (white, brown, orange, green and yellow)
Matching Threads
Needle
Scissors
Instructions
Step 1
Download the pattern and trace out the templates on the felt pieces.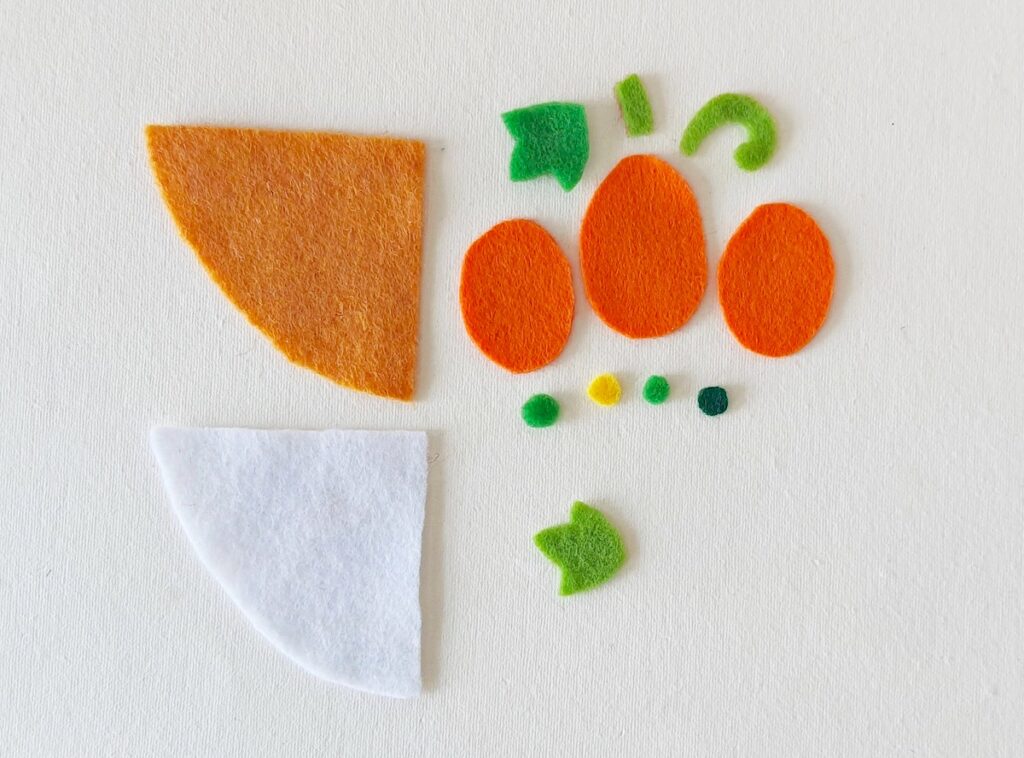 See the photo above for the pattern pieces and what colors we used for each.
Step 2
Place the pumpkin stem and vine pieces near the pointed end of one of the bookmark base pieces.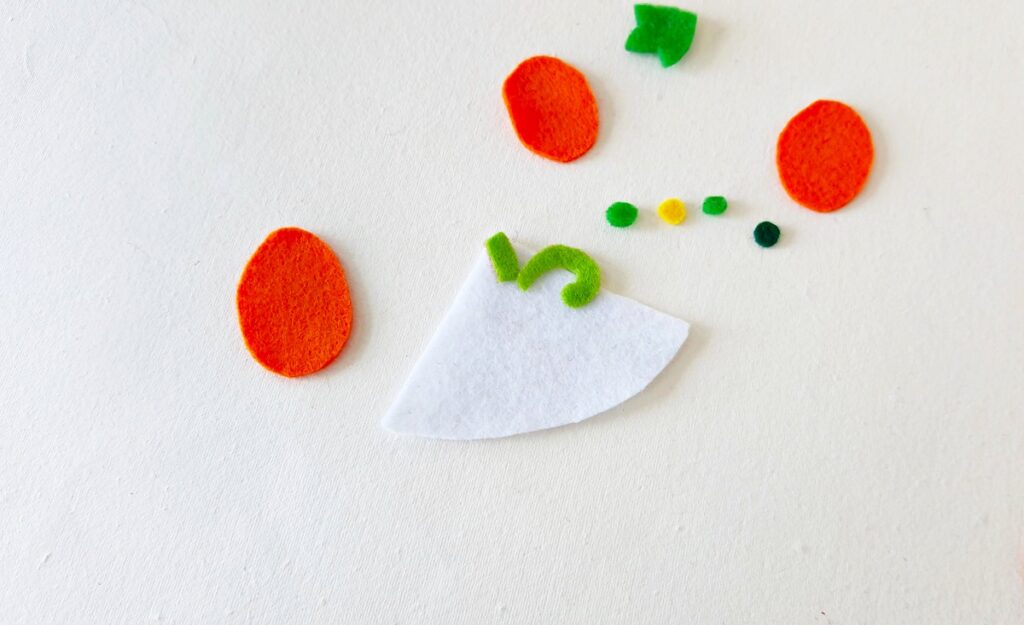 This will be the front of the corner bookmark, so choose the color of felt that you want showing on the front.
Step 3
The pumpkin pattern has three pieces in varying sizes of oval shapes. 
Place the middle pumpkin pattern (the larger one) slightly covering the bottom sides of the stem and vine. Bring the end of the vine piece to lay on top of the pumpkin oval.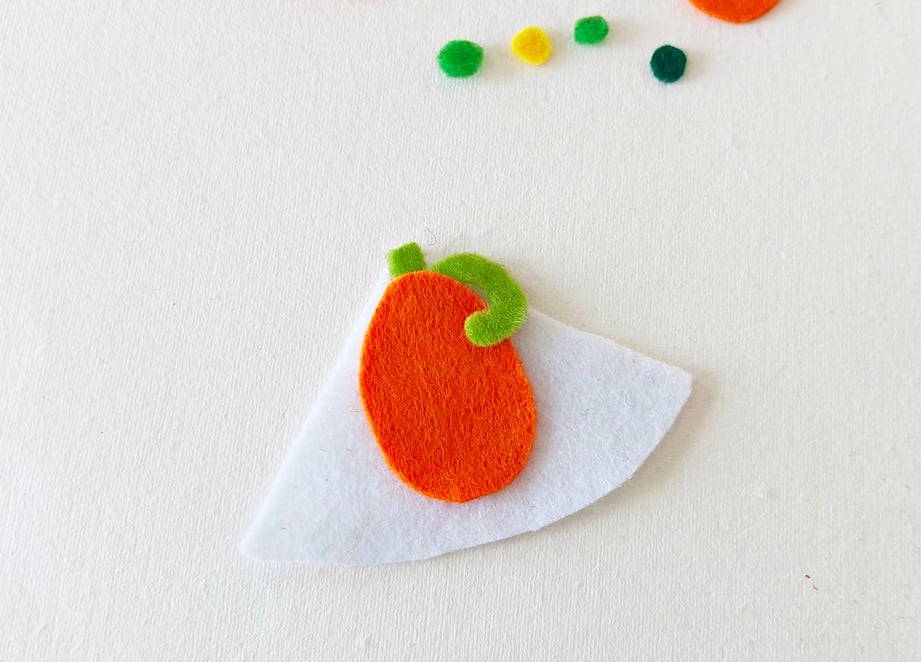 Step 4
Using a matching color of thread, hand stitch the top part of the pumpkin shape to the bookmark base. Make sure to stitch the pumpkin, stem, and vine together, as well.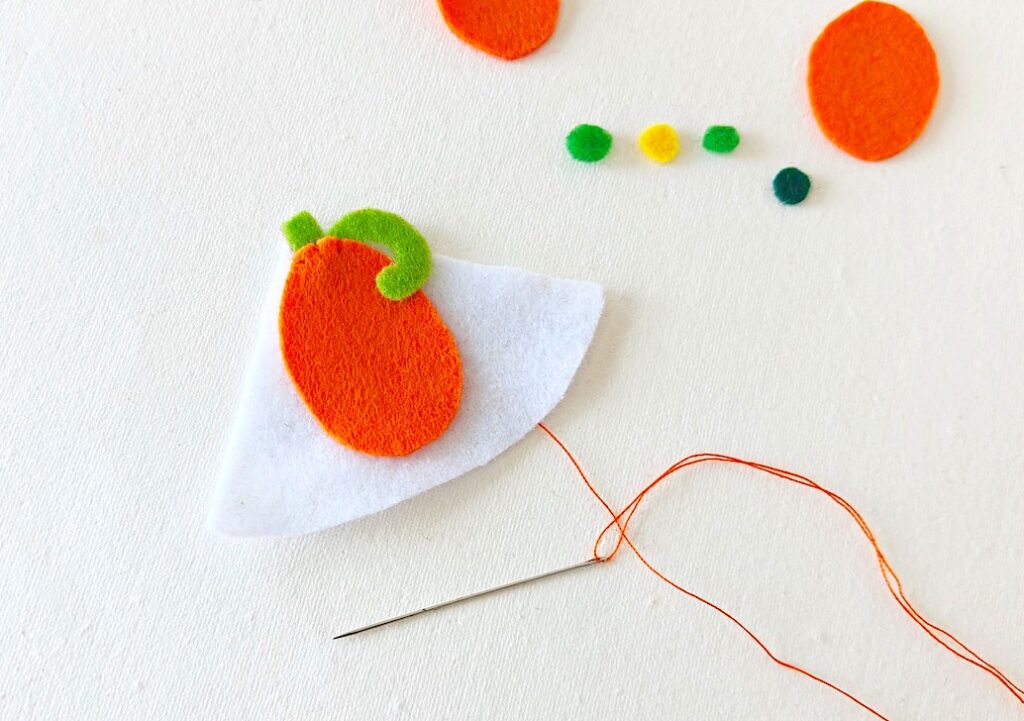 Step 5
Place the 2 other pumpkin parts on both sides of the stitched one, keeping the middle-pattern on top.
Step 6
Using a needle and thread, stitch around the middle piece of the pumpkin, making sure to sew through all of the layers.
Step 7
Sew the small leaf piece on the side of the pumpkin across from the vine. You will only need a few stitches using a matching shade of thread.
A small x-shaped stitch on the end of the vine will hold it down to the pumpkin.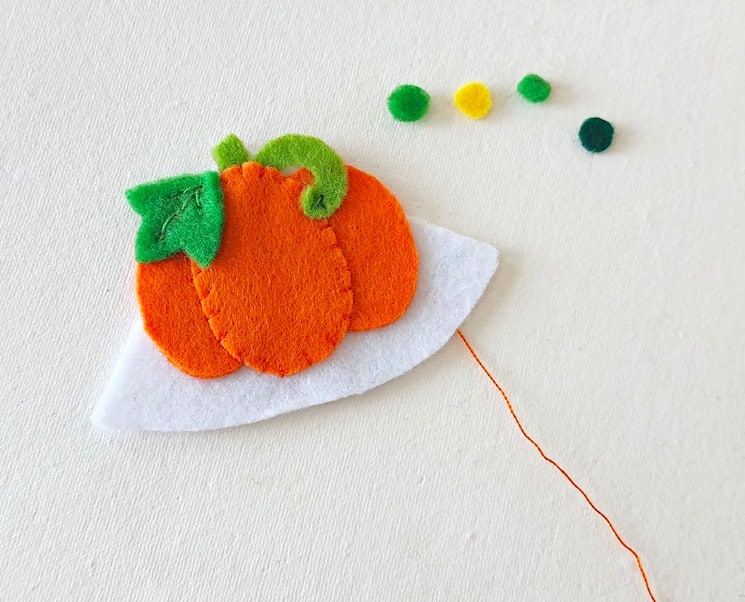 Step 8
Place the other leaf underneath the pumpkin in the corner under the edge of the pumpkin. 
The small polka dots can be added underneath the pumpkin in any way you would like.
Sew the leaf to the base with a matching thread color. Then, using a small x-shaped stitch, attach the small circles.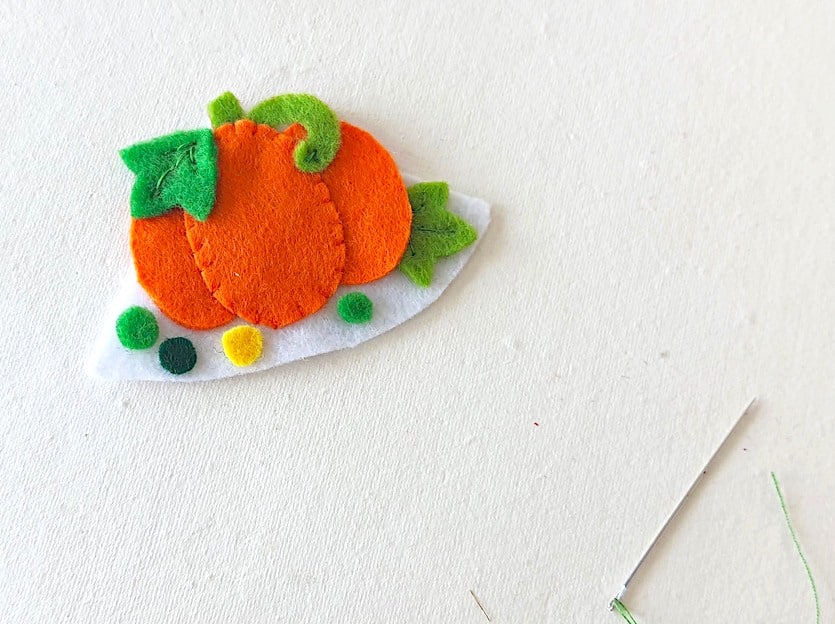 Step 9
Place the pumpkin bookmark pattern on the top of the back piece.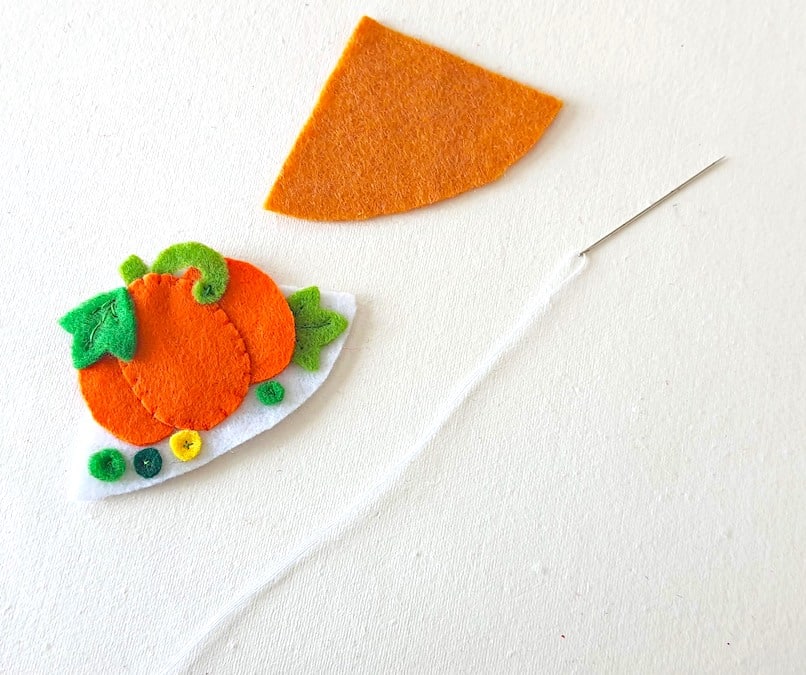 Step 10
Hand stitch the straight edges of the bookmark corner together using a matching thread that matches the color of the front piece. Do not stitch the rounded edge.
We used a blanket stitch around the edges.
Tie a knot in the thread to secure when done.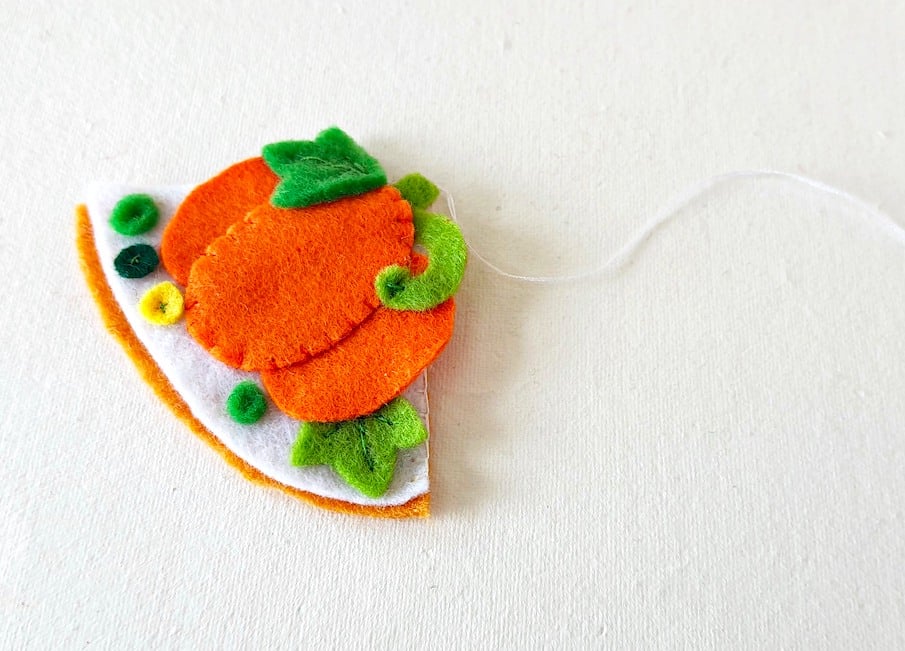 Be sure to Pin This pumpkin bookmark craft to save for later!
We love making bookmarks! Be sure to see our other easy bookmark patterns: