No pattern is needed to make this easy DIY neck gaiter to keep your nose and face warm and protected from the elements! Make one in just three steps!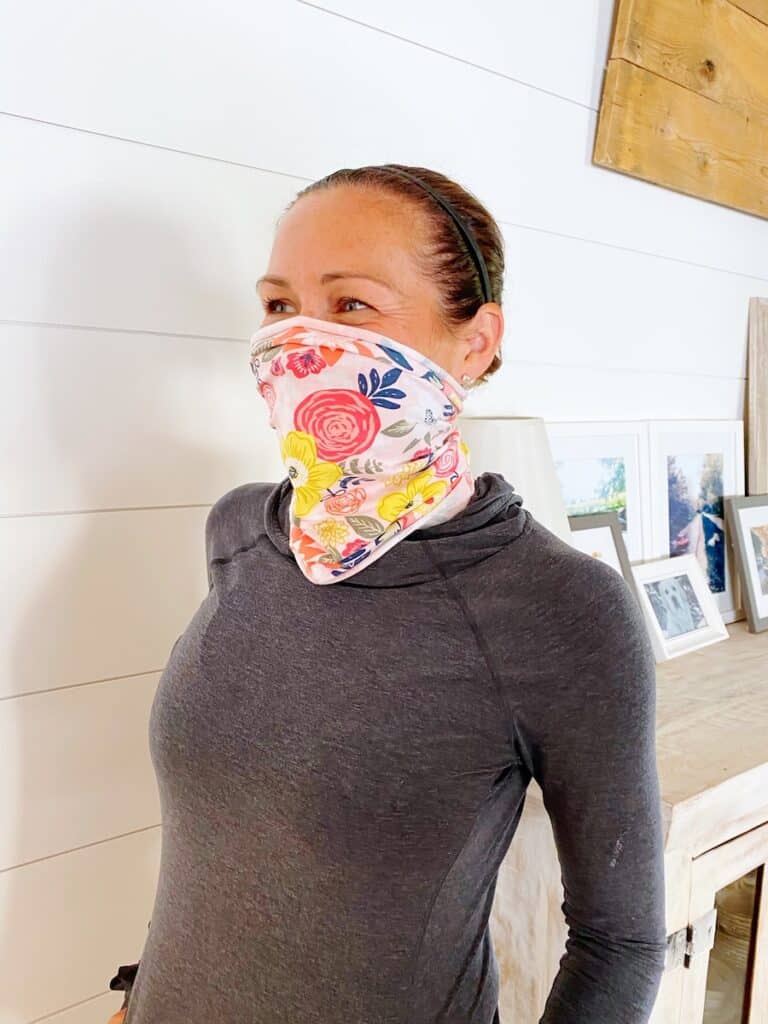 **This is NOT to be used as a medical mask. Just to make this perfectly clear, do not count on this fabric face covering to protect you from anything in the air that you don't want to breathe.
If you are looking for a gaiter to keep your neck and face warm, you can easily sew one with some pretty fabric without having to spend a lot of money buying one.
You might also be interested in our DIY hand sanitizer keychain holder.
Helpful Tips for Making A Neck Gaiter
Keep in mind, this is a very basic neck gaiter. In the instructions you'll find ways to customize the face covering, including the size and whether or not you want to hem the ends.
To make a gaiter, you need jersey fabric because it is stretchy. I like these colorful jersey fabrics.
The stretchiness of jersey fabric allows it to stretch over your head to wear around your neck. Many people want to sew a neck gaiter simply to have a warm neck covering that can protect their face from cold winds if needed.
If you choose not to hem the top and bottom sides, keep in mind that jersey will start to unravel. Especially after putting in the washing machine. So if you are looking for a neck gaiter that will last for several years, be sure to hem the sides!
You could use fleece to sew this neck gaiter. The instructions are the same. However, jersey has a bit of stretch to it, which means it will stay up over your nose easier because it stretches over your face. Fleece does not have stretch. So you'll have to measure the size of fabric that would be comfortable to fit over your nose, and then it might fall down a little bit more while wearing. However, if you are using this just as a neck covering with limited use on your face, you don't have to worry about it so much.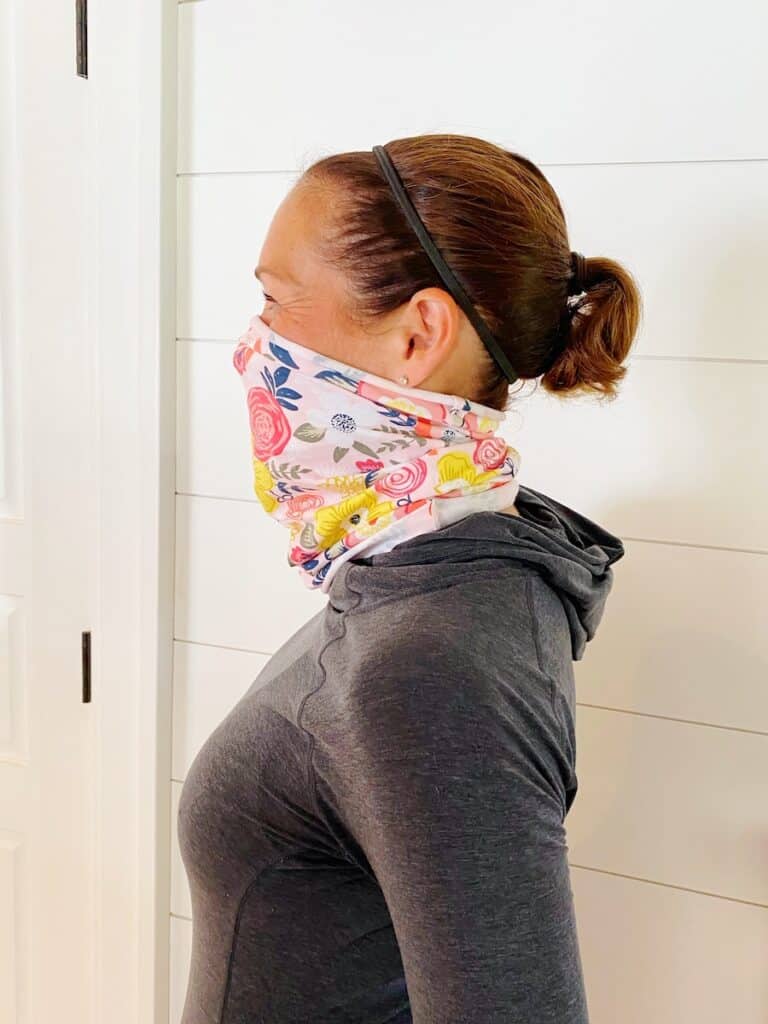 How to Sew a Neck Gaiter (with No Pattern)
Supplies
Jersey knit (I bought this print at Hobby Lobby, but I love this floral pattern on Etsy!)
Thread
Scissors
Measuring tape
Pins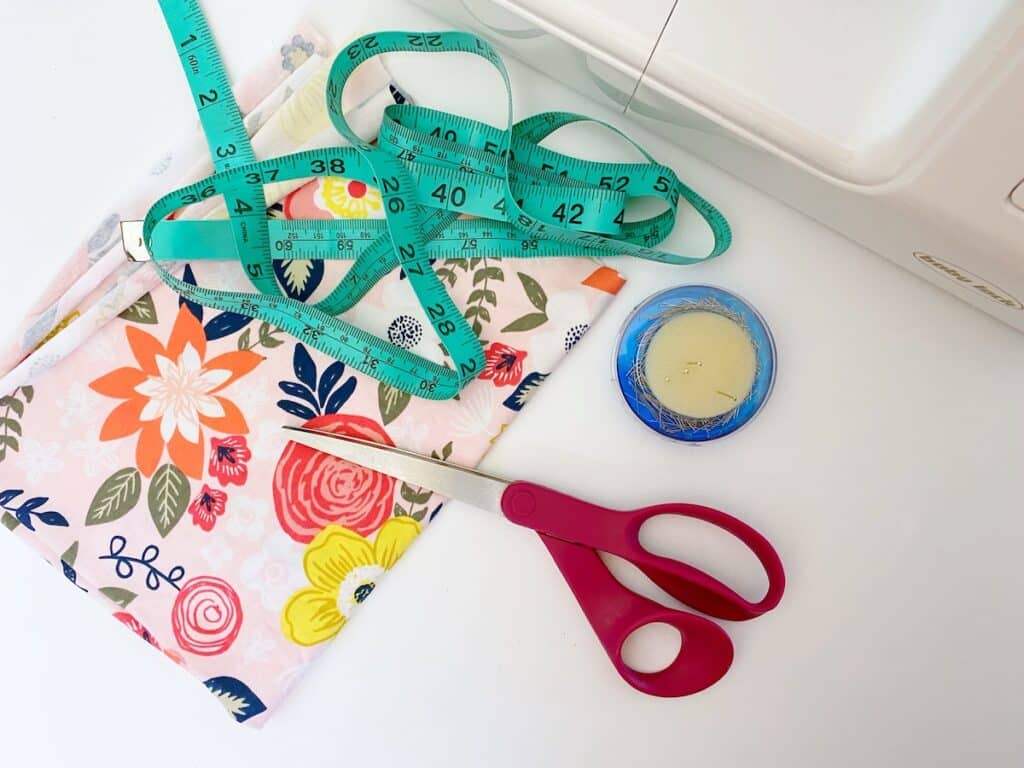 Instructions
Step 1
Measure out a piece of fabric to be 17″ x 18.5″. Note that the 17″ side is the length, and the 18.5″ side will be the width.
You can customize the size (either larger or smaller, to fit your needs) now. I suggest wrapping a piece of fabric around your face and seeing what is comfortable, allowing for enough stretch to keep the gaiter over your nose if you are wearing it that way.
Step 2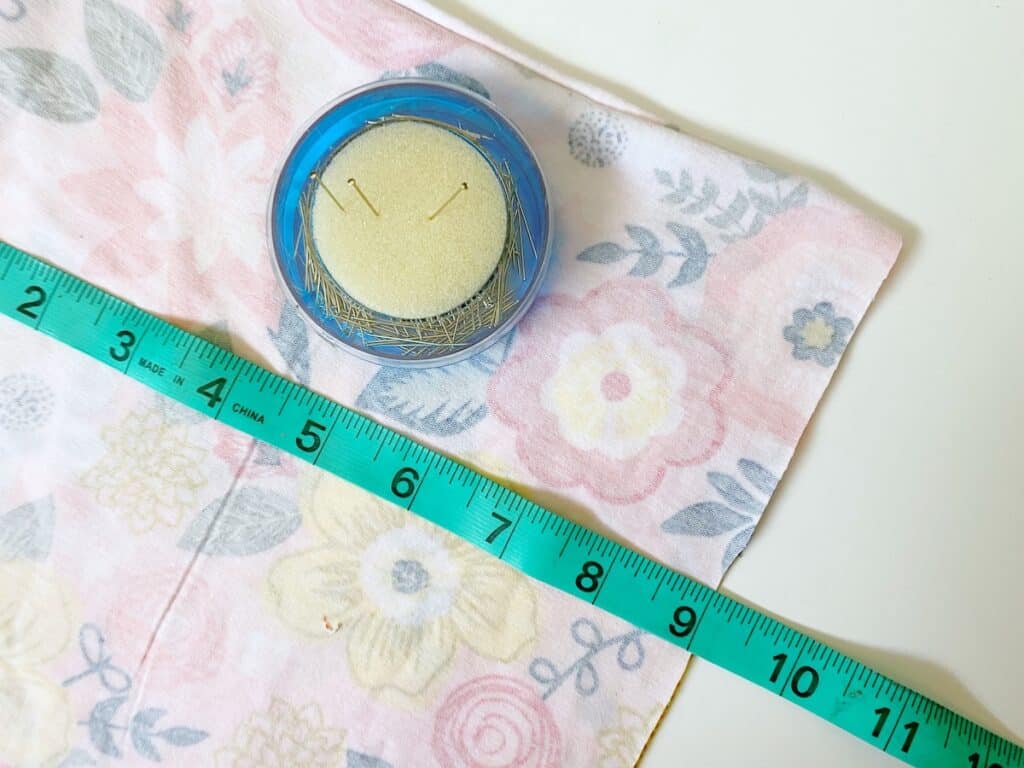 Fold the 18.5" side of the fabric in half with the print sides (right sides) facing each other.
If you wanted to hem the sides to prevent unraveling, you'll want to hem the 18.5 inch sides before folding them. To allow for the additional hem, increase the measurement to 19.5 inches when cutting, which would give you an allowance of a 1/2 inch hem on each side.
The gaiter pattern will now be 9.25 x 17." The 9.25" ends will be the openings. Pin the 17" open side together.
Step 3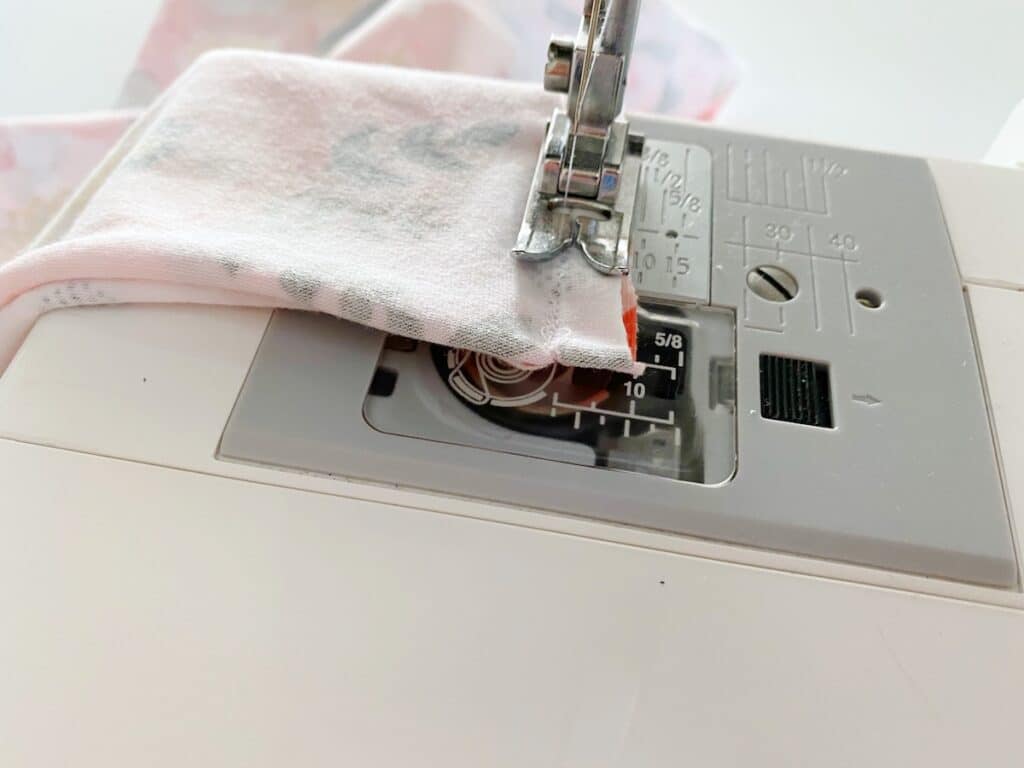 Sew the pinned long edge together using a straight stitch. Make sure to back stitch at the beginning and end to secure the seams. Trim off any loose threads.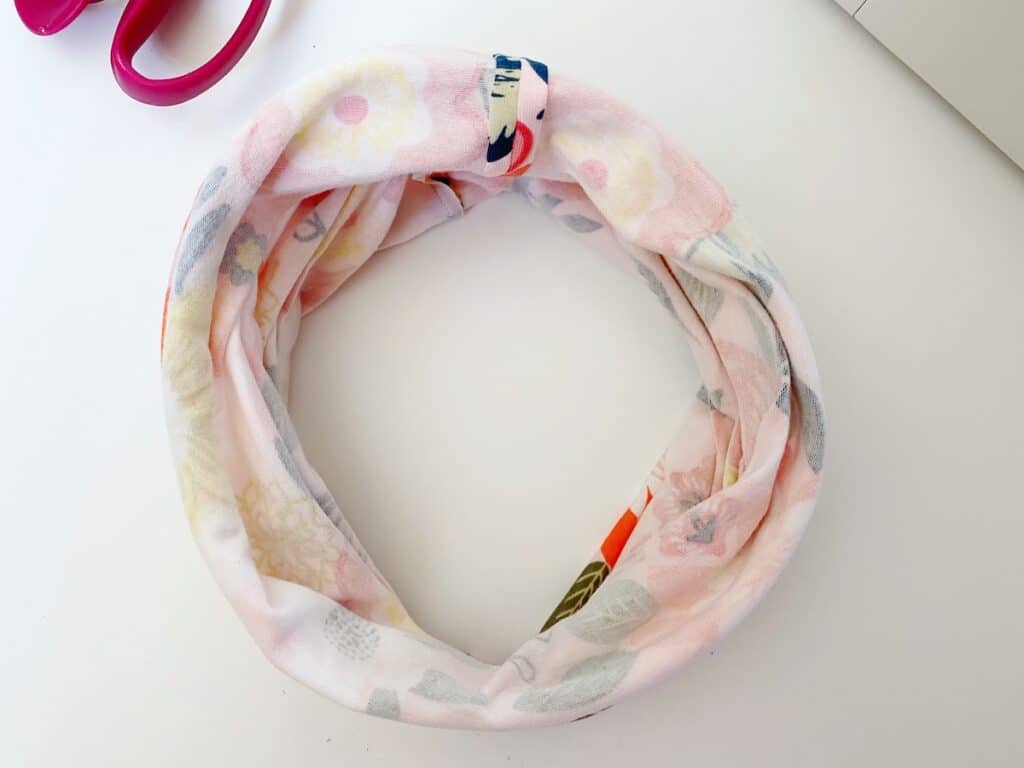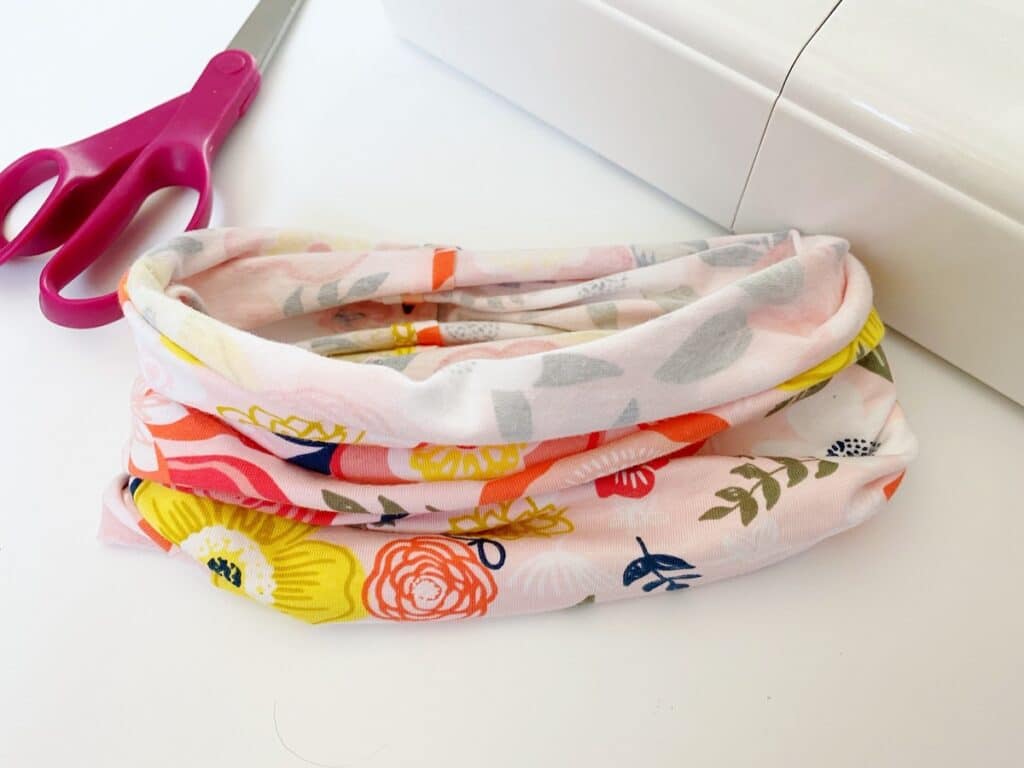 Pin This project to your sewing or crafts boards to save for later or to share with others!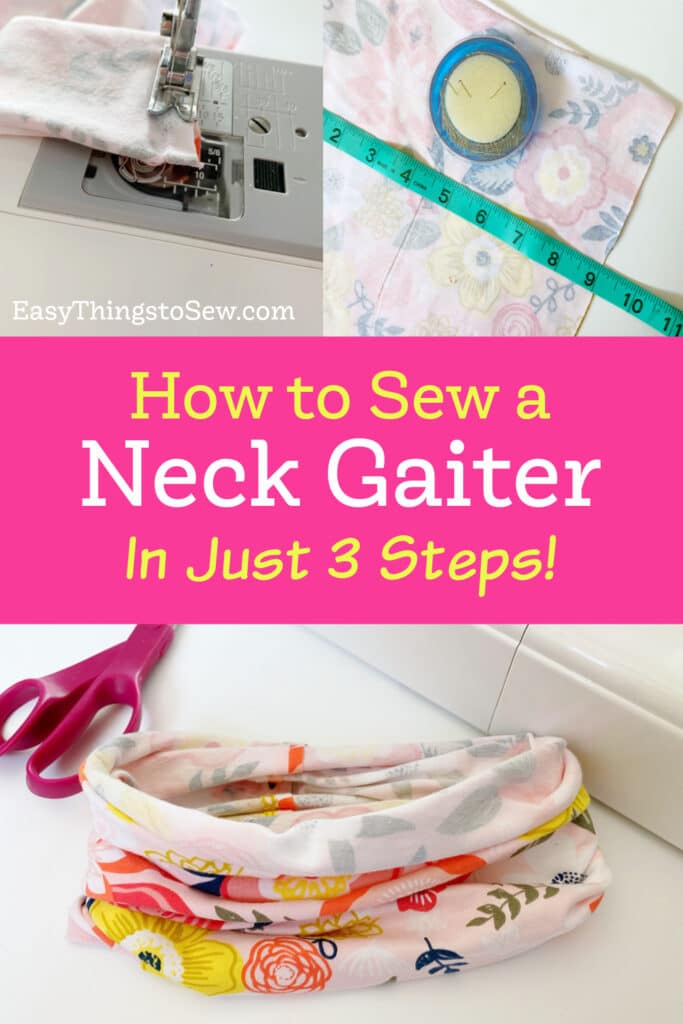 Like easy sewing projects? You might also like these crafts: