If you can't bear to throw away small bits of felt, then this project is for you! I totally understand not being able to throw away fabric remnants because they might be useful for another project. I feel the same way!
Which is why these simple Boho style patchwork felt coasters are so smart! They use all of your small, leftover pieces of felt to make gorgeous drink coasters. They're great for your own cup of coffee, or perfect to give as gifts, too.
You don't need a sewing machine for this easy craft. It is hand stitched with a needle and thread.
Which makes this a perfect craft for older kids and teens, too. They can make a few coasters for their drinks in their room. Or make some to give as gifts to family.
Be sure to check out our felt crafts which are simple to sew. Chances are, some of the remnant felt pieces from those projects can be used to make these felt coasters.
Mix and match different colored squares to give the coaster a fun, retro look. Or choose all one color. 
How to Sew Patchwork Felt Coasters
Supplies
Felt fabric
Scrap felt pieces
Needle and thread
Scissors
✅ This is a great deal for getting lots of different colored felt for sewing projects.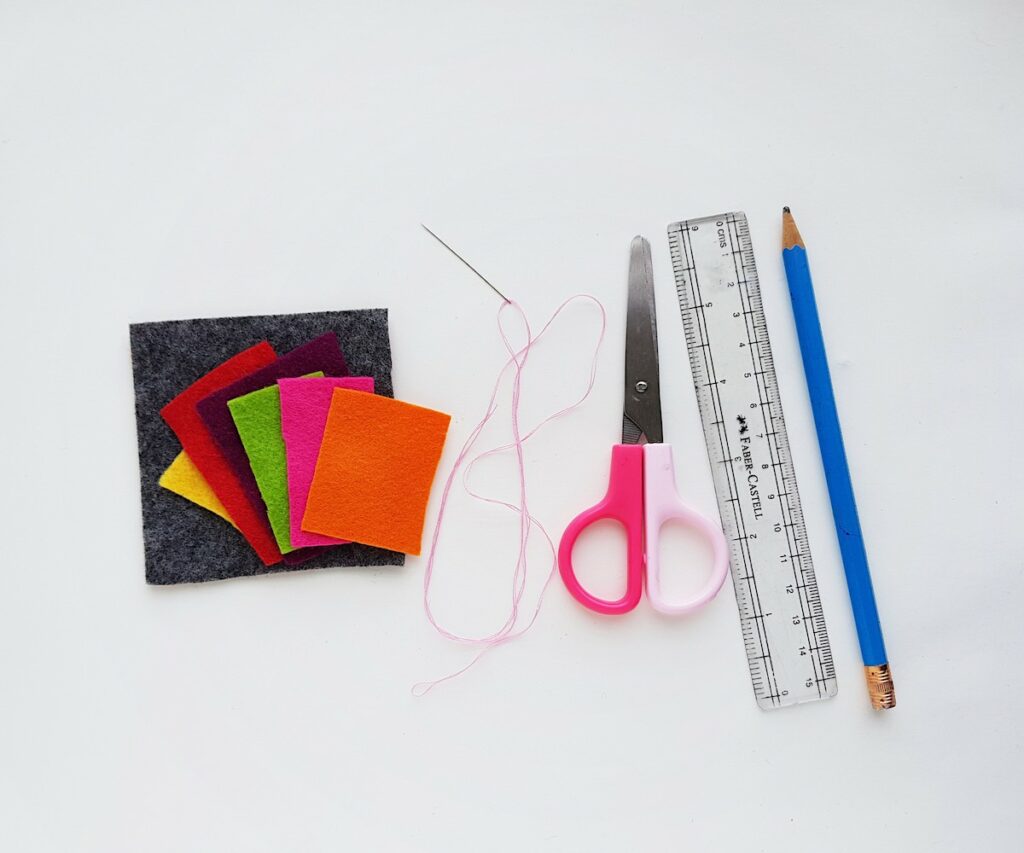 Instructions
Step 1
Determine the size you want for the coaster and cutout a square piece of felt that size.
These coasters have a grey felt square base that is 3.75 x 3.75 inches.
For the patchwork, you will want a total of 9 mini square felt pieces. Divide the size of one side of your square by three. This is the size that you want each side of the 9 mini squares to be in order to fit on the base square. For instance, I divided 3.75 inches by 3 and the result is 1.18 inches. I rounded down (to about 1 inch) so that I'd have a little bit of the felt base showing through. So, each of my mini squares is around 1 X 1 inches.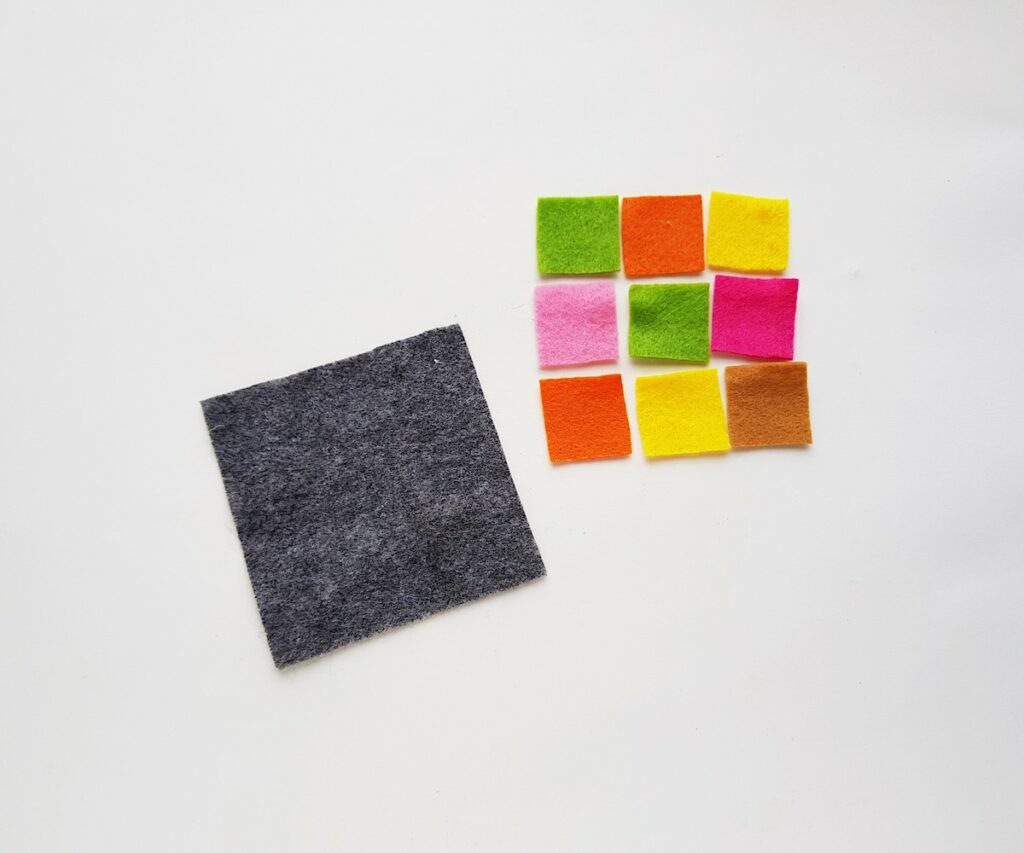 Step 2
You can use matching thread to sew each square, but we're using white thread to stitch all of the pieces.
Start by placing a square piece on a corner. Hold the square felt piece firmly in place and start to stitch from a side. (You could use a pin if needed to keep it in place.) We did a simple running stitch around all 4 sides of the small square piece to attach it with the base piece.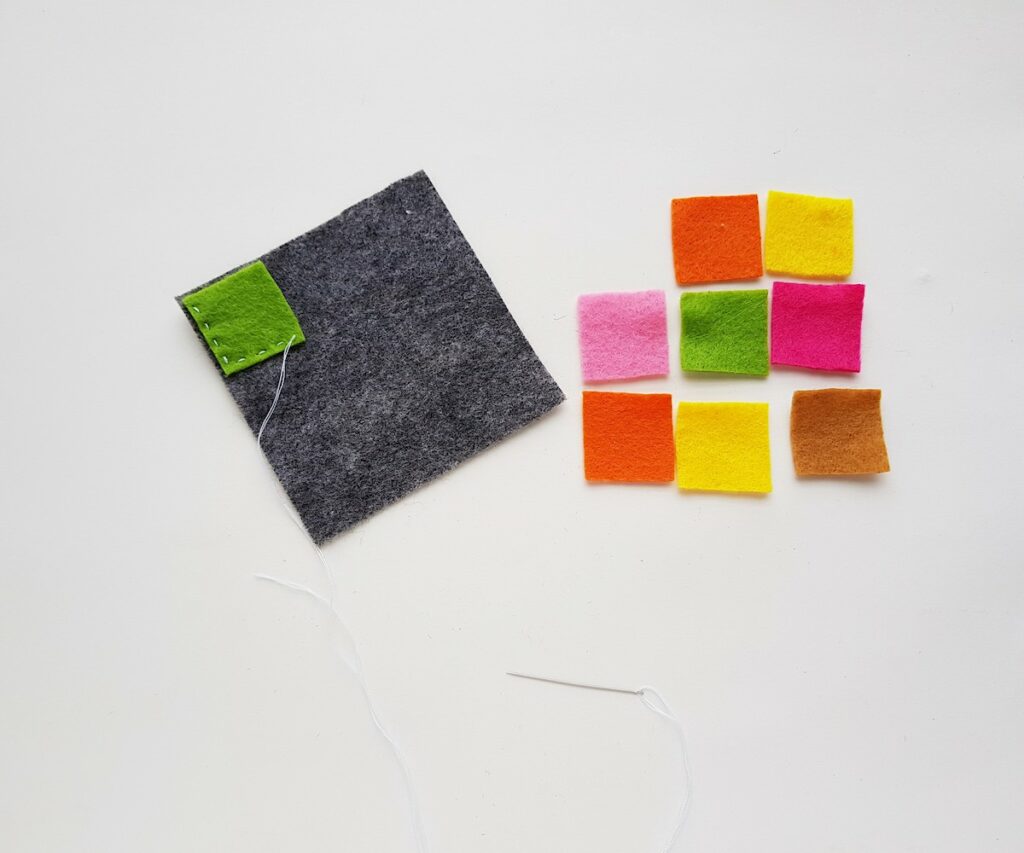 Step 3
After stitching all 4 sides of the 1st square piece, place the next square piece right beside the first one and stitch it in the same way.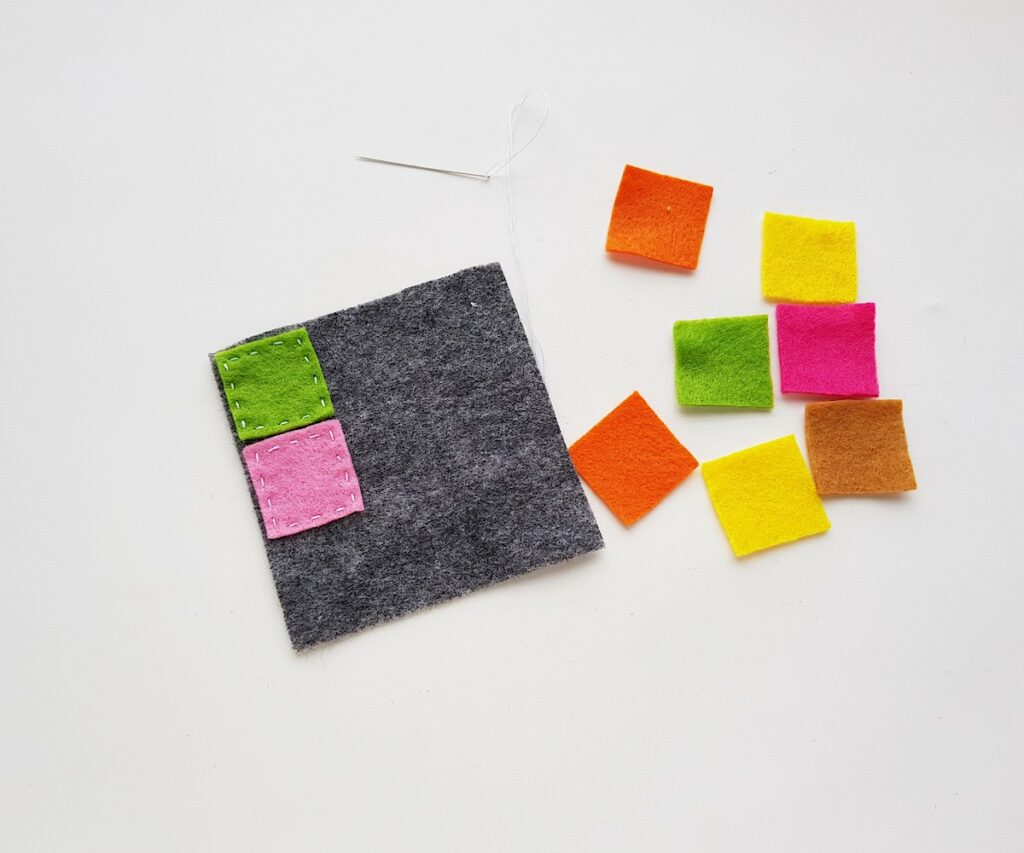 Step 4
Continue to place square felt cutouts on the base and sew them down.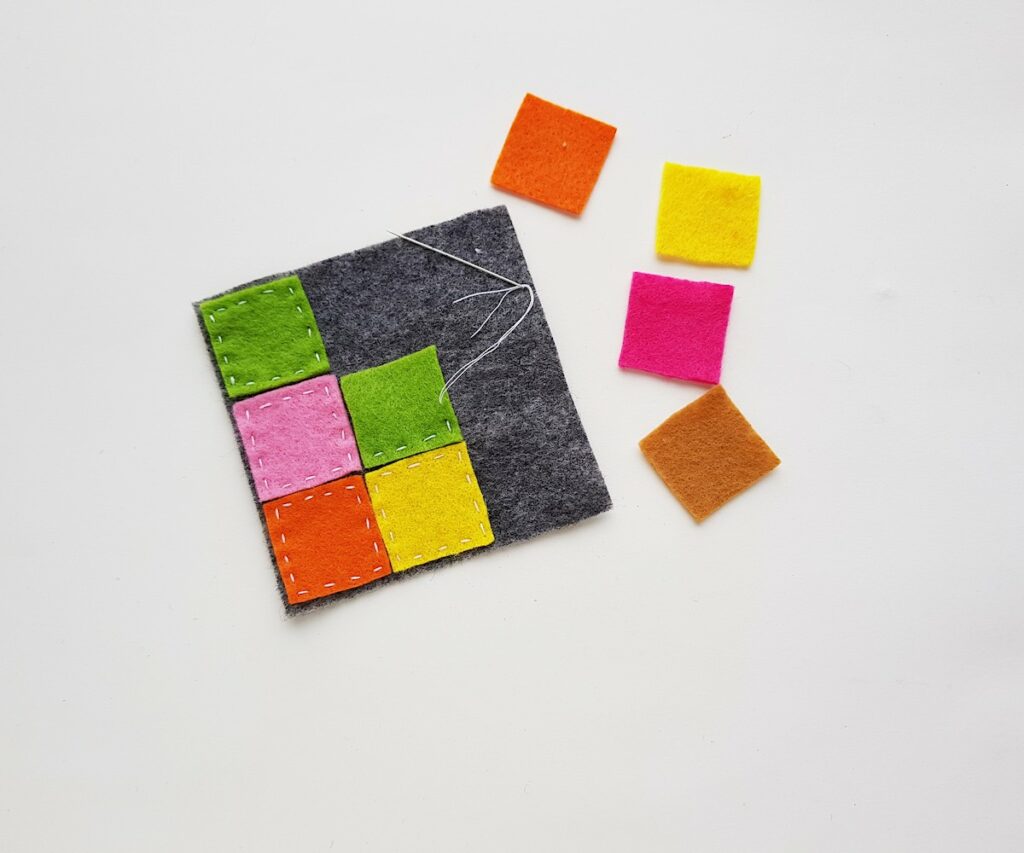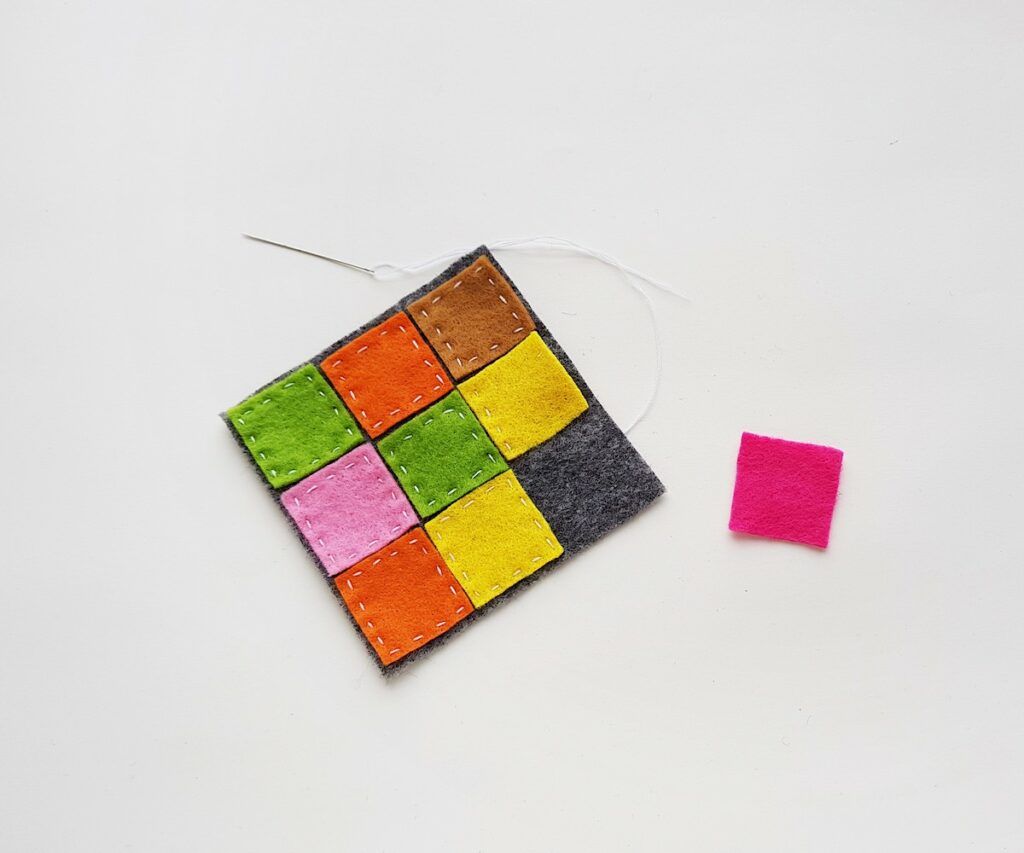 Step 5
When you're done stitching all 9 pieces of squares, knot the thread on the backside of the felt coaster. Tie a few knots to keep it secure, and cut off the remainder of thread.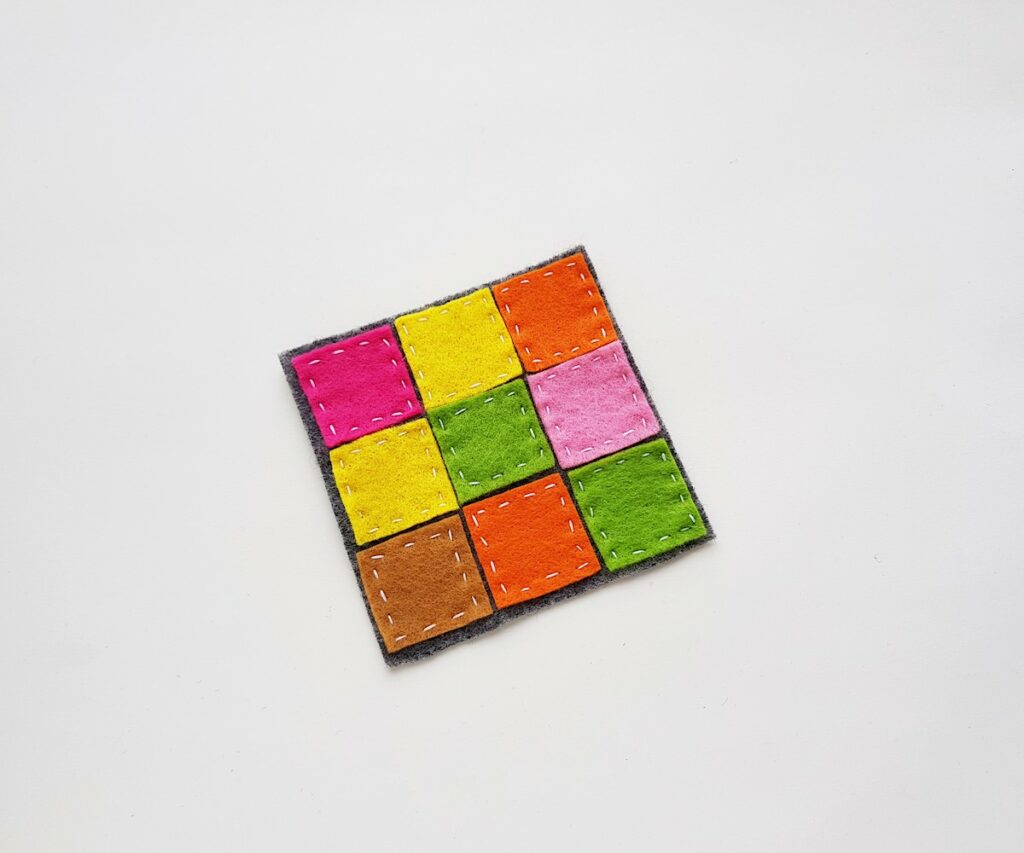 You might also like these easy sewing projects: