You can never have enough organizers around your home or in your office! Which is why these hand sewn DIY felt trays are so nice to make! You can finally get organized with these fabric storage trays!
If you want a pretty place to store your office supplies, such as paper clips, rubber bands or pens and pencils, then these catch all trays are perfect for you!
The trays are so easy to make with just four simple steps. You can get all of the materials needed for well under $5 – probably much less if you have some sewing supplies already.
No pattern is needed!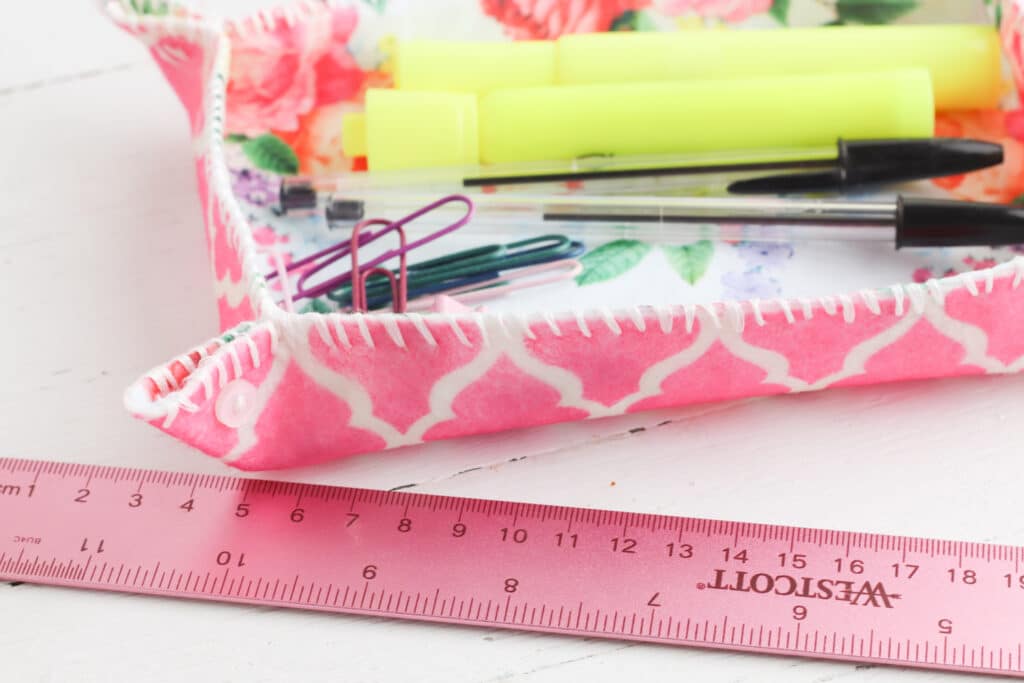 And you don't need a sewing machine! That's right, these pretty trays are sewn by hand using a simple hand stitch method.
Of course these aren't just for the office. Use them in your entryway, or store jewelry in them in your closet or drawers. (You might also like these nesting canvas valet trays, too, to keep things organized.)
You could even make them for the kitchen to keep your coupons neat and tidy in one place.
These DIY fabric trays make great gifts, too! So make quite a few to share with others.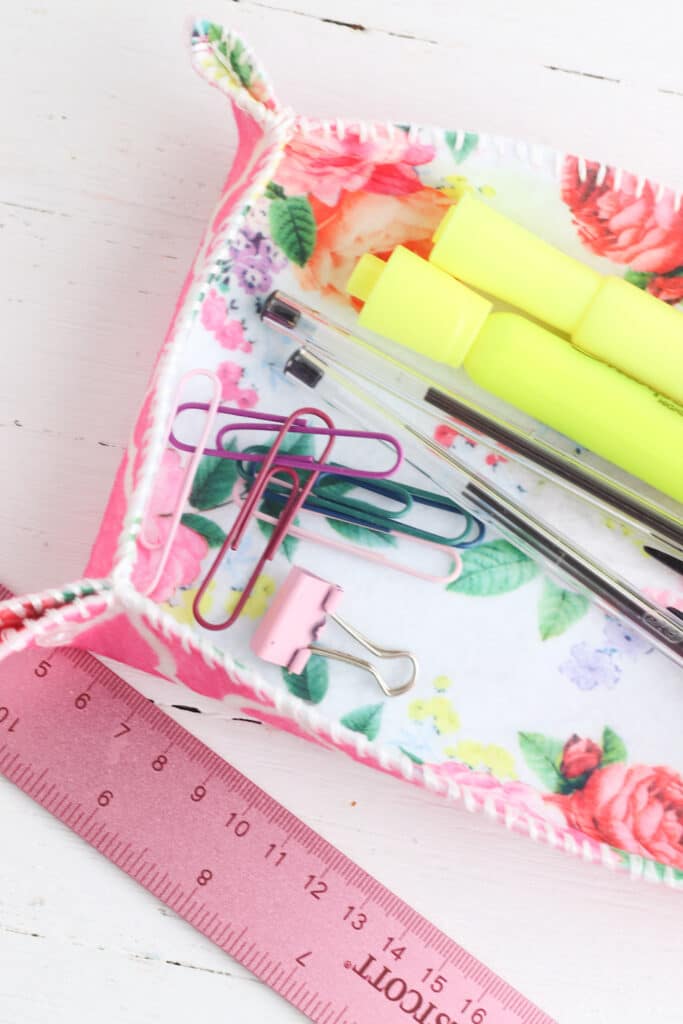 How to Make a Felt Fabric Tray
Supplies
2 pieces of patterned felt (here's some cute felt on Etsy)
Embroidery thread
4 small buttons
Embroidery needle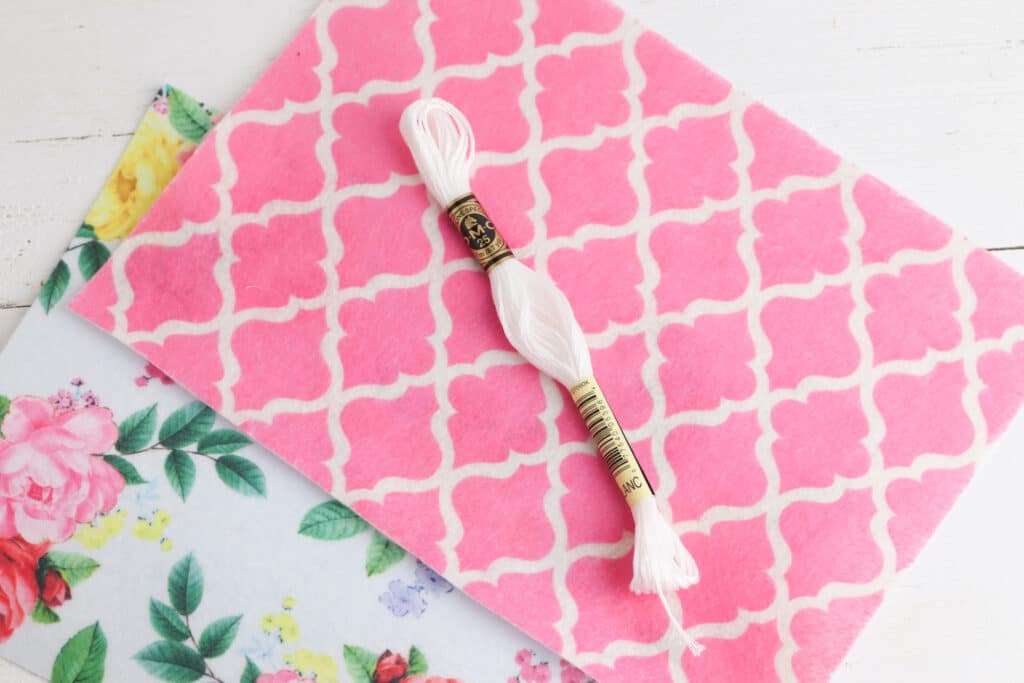 Instructions
Step 1
Trim the felt to the size you would like your tray to be, keeping in mind that you will be pulling up the ends slightly. You could make a square valet tray, or a rectangular size.
Step 2
Stack the two felt pieces on top of each other, wrong sides together, with both patterns facing outward.
Sew the pieces together with a whip stitch by looping the embroidery thread over the edge of the fabric.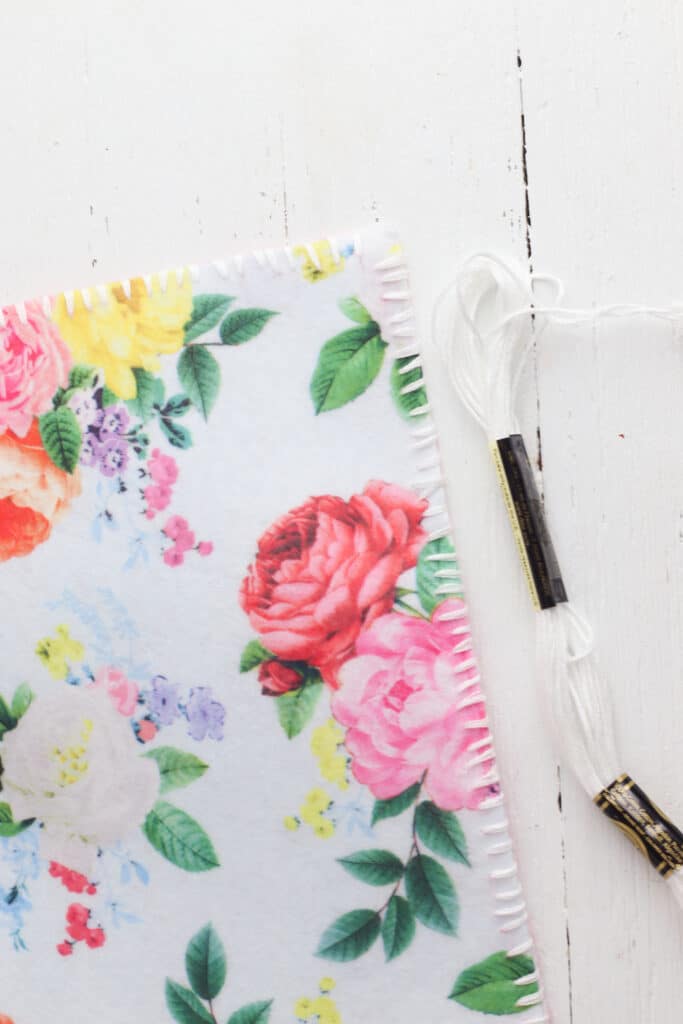 Step 3
Put a button on the side of one corner and thread the needle through to prepare for stitching.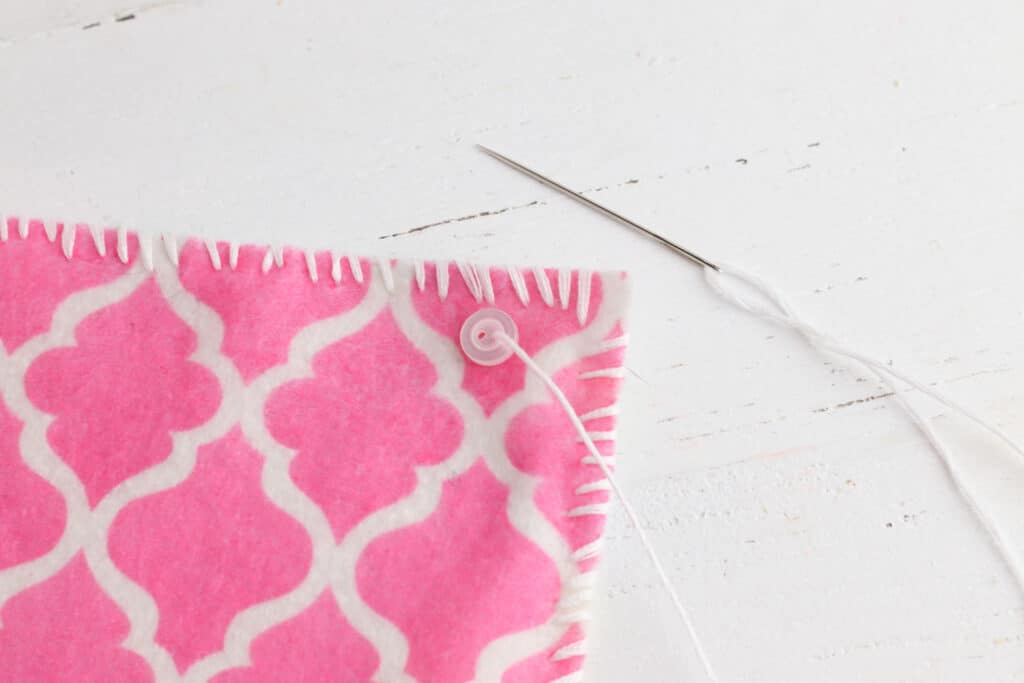 Pinch the sides of the corner together and hold with your hand or pin to hold.
Sew the button on the corner, threading the needle through each side of the corner to catch both sides and hold them together. When the corners are secure, knot the thread and cut off the excess. Repeat the process on each corner.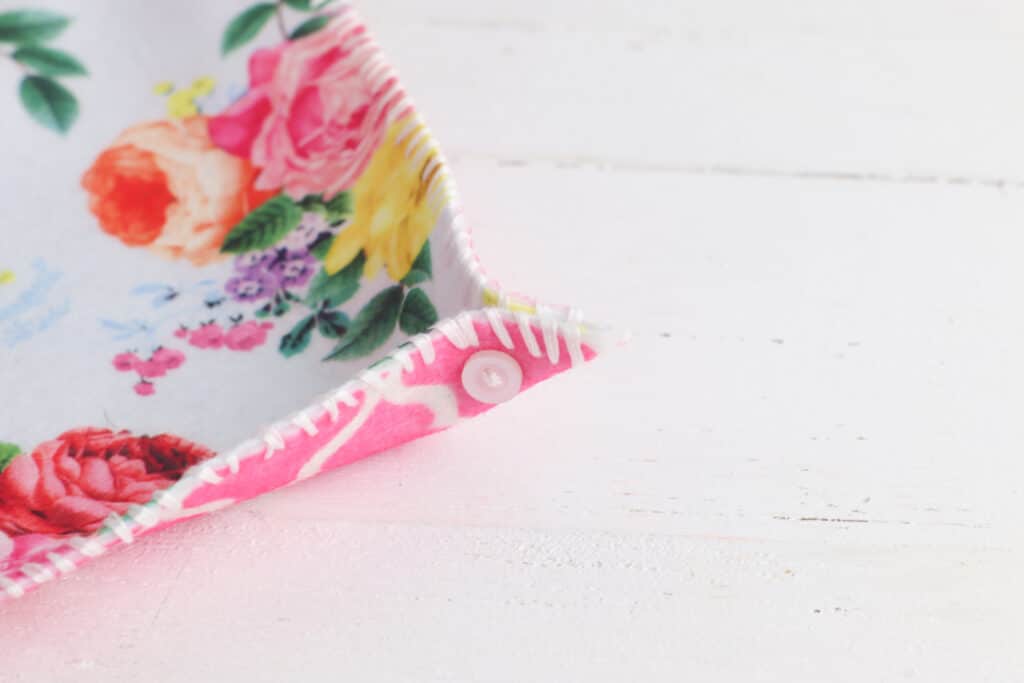 Step 4
I decided after making these that I wanted a more squared-off corner for the tray.
I pinched the corners together again and hand stitched them together about a half inch from the button. I just did a few stitches to keep the sides together. I didn't sew down the entire length of the fabric, as you can see in the photos below.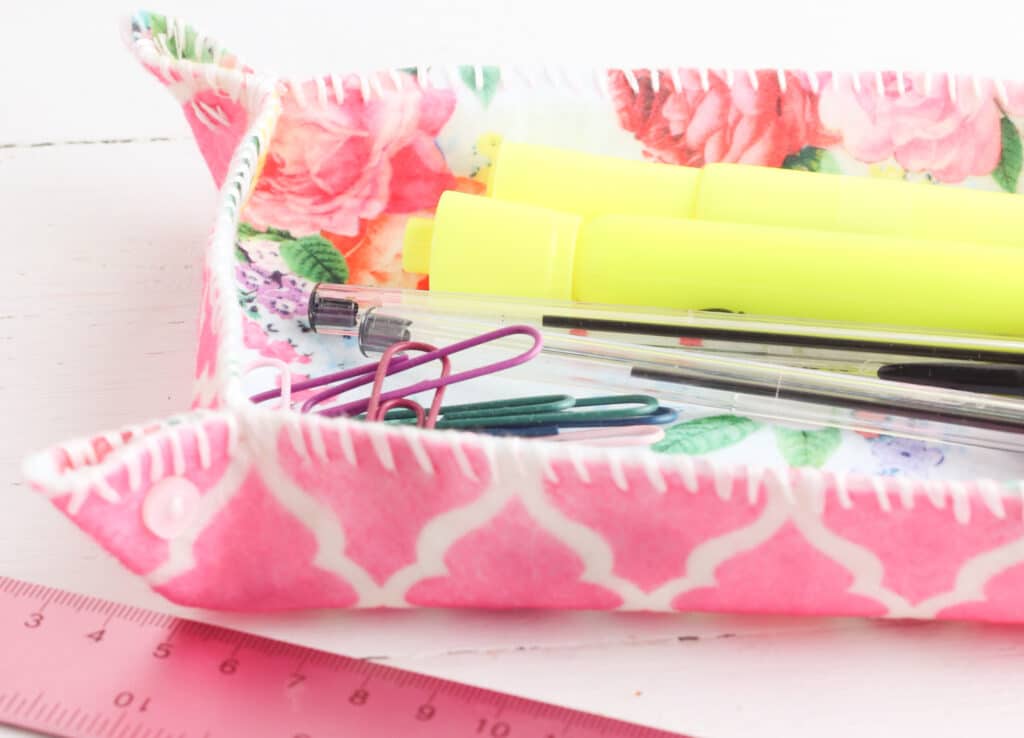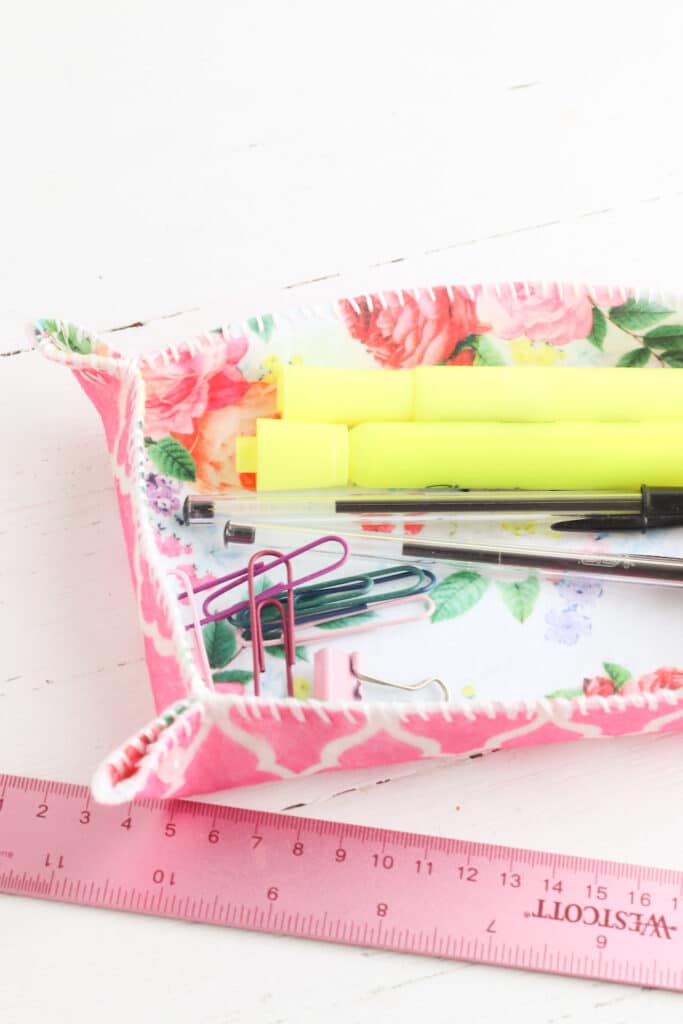 Looking for more easy organization ideas? Make these zippered lined pouches or these easy drawstring bags to keep loose items organized.
For more felt crafts, you will love this pretty elastic flower book band. And try making these boho felt coasters from craft scraps.
These cute mini felt succulents come with a free pattern!